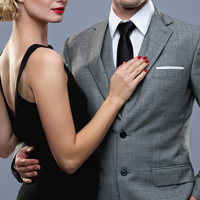 Dry Cleaning
Dry cleaning is a process that removes spots and replenishes fibers to like-new state without involving water. It includes spot treating, cleaning and finishing steps.

The foundation for spot removal is prespotting. Pre-spotting involves evaluation and application, and then determining what properties constitute the stain for that stain that would be best removed by the procedure.

Our procedure is green and is just as powerful and more gentle as normal dry cleaning. All of our dry cleaned things are hand pressed to ensure the fine details and creases are carefully addressed.

We have over sixty years of expertise and material care knowledge to shelter your investment in your clothing. We use the maximum quality solvent to the market available. Clothes keep their softness and colors without fading, shrinking, pilling, or smell. Delicate garments with elaborate trimming and beads are cleaned safely.

Garments are frequently ornamented with lace, beads, and rhinestones, and shielding those decorations is part of successful prespotting. These techniques need years of expertise.

Your clothes will survive longer and look better than clothes cleaned everywhere else.