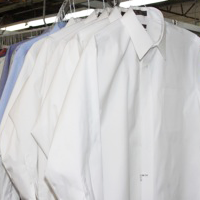 Shirts Laundry
Nothing beats a crisp, freshly pressed dress shirt. At Hurt Cleaners, we use state-of-the-art equipment to finish and clean your shirts. Your shirts will be washed, pressed, and finished with a fresh look. Platinum detergent provides better whitening power, brighter colored shirts, cleaner collars and enhanced stain removal.

Every shirt is checked for stains, collar rings, and wrinkles. "Deluxe" shirts are hand pressed and completed respectively to fulfill and surpass your expectations. We check any missing or damaged buttons, and replace them if necessary.

We offer 3 degrees of top service:

Standard—Your shirts will be pre-treated, washed, pressed, inspected, and returned with crisp look and feel. This service is appropriate for the great bulk of your own tops, and selected by 80% of our customers to care for their fine top wardrobes.

Special—Also begins with a machine finish, followed by extensive hand touch-up and hand-finishings. Shirts are packaged separately to keep the quality finish.

Deluxe—This could be the greatest "spa treatment" for your very finest shirts. This highest quality service is well suited to very delicate voile shirts and expensive, high fashion, deep hued shirts. Each top packaged separately with the sleeves, scrutinized for each detail, and is completely hand-finished to provide your best look.

Whatever service suits you, you'll look impressed in an entirely new way and people will study your tops in a fresh manner, too!

We guarantee that you'll be satisfied with your clean shirts with crisp collars and cuffs using our professional finish.