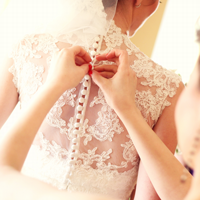 Wedding Gowns
Bridal gown cleaning is also one of our expert services. A bride's wedding gown is more than just a beautiful piece of garment; it is a memory of a lifetime. This is why Hurt Cleaners take extra care in preparing, cleaning, and preserving your precious wedding gown. Our fabric care specialists inspect each dress individually to find out which best cleaning and/ or stain removal methods to apply on your dress.

We use the most current procedures to make your bridal gown look just as good as the day you wore it on your wedding day. Each wedding gown receives special attention and finishing is done only by hand.

After exceptional care is done on your wedding garment, it is returned to you in an equally beautiful archival box with almost the quality of a museum artifact. This special packing is done to correspond with our meticulous cleaning process, specifically to minimize oxidation hence further maintaining the gown's integrity.